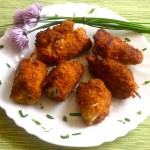 Mom's Chicken Kiev
Tidbits... This recipe was popular in the 60's and I remember my mom making it for special occasions.  I celebrate this festival with beautiful memories...  In my heart today and always.
Instructions
Cut chicken breasts lengthwise in half. Remove skin and carefully cut meat from bones so you have nice solid pieces.
Place boned side up between 2 pieces of saran.
Pound with mallet to form cutlets about 1/8 inch thick.
Peel off saran and sprinkle with chopped chives, parsley, salt and pepper.
Cut chilled butter into small cubes. Place butter cube near end of meat and roll up as jelly roll tucking in sides of meat.
Press to seal well. Secure with toothpicks.
Dust with flour, dip in beaten egg then roll in breadcrumbs.
Chill in refrigerator for at least one hour (or overnight).
Fry in abundant hot seed oil for 5 minutes or until golden brown.
Add to Favourites