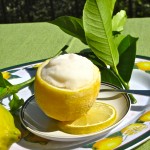 Lemon Sorbet in frosty lemon cups
Tidbits...These frosty cups can be served as dessert or as an "intermezzo" between courses of an important dinner.
Instructions
Cut top off lemons and scoop out pulp with serrated knife or grapefruit spoon being careful not to puncture the skin. Strain juice and discard inner membrane. Save lemon "cups" and tops.

Heat water with sugar on low heat until it forms syrup.

Cool completely then add lemon juice.

Whip egg white until frothy and whisk into syrup, juice mixture.

Spoon mixture into prepared lemon cups and freeze overnight.  Remove from freezer at least 10 -15 minutes before serving.
Allergens
Allergens
Add to Favourites