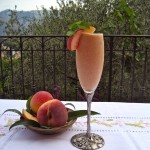 Peach Sorbet To Drink
Tidbits...The peach sorbet "ice cubes" can be made in advance. Just put the cubes in a blender and add the cooked whipped eggwhite and liqueur. Refrigerate until served. It is an elegant refreshing drink.
Instructions
In boiling water blanch peaches and remove skin.  Cut in half and remove pits. In sauce pan cook peaches, sugar, lemon and 1 cup of water until softened (about 10 minutes.)  Add remaining mineral water and let cool.
Put in stainless steel bowl in freezer and stir every 15 minutes for about 2 hours. When it becomes slushy, pour or spoon into ice cube trays, cover with saran and freeze.
When ready to use, remove cubes add liqueur and use blender or mixer until creamy.
Whip eggwhite while over low heat until forms soft peaks then fold into peach mixture.
Garnish with fresh peach slices and a sprig of fresh mint.
Add to Favourites