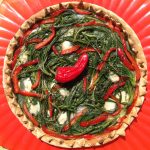 Prep Time: 20 plus levitation minutes
Cook Time: 25 minutes
Print
Pizza with Agretti and Taleggio Cheese
Tidbits...Agretti is a healthy green vegetable that also goes by the name of Barba di Frate (Friar's Beard). Agretti is from the plant salsola soda and abundant in mineral salts, vitamins A and B and also very good steamed with just a light dressing of oil, lemon, grated ginger. Taleggio cheese is a very flavorful soft cheese that melts well. It could be substituted with Asiago in this pizza.
Instructions
Flash boil the agretti for 2 or 3 minutes then remove and drain on paper towels.
Slice the red pepper in small slivers about 2 inches long.
Put the oil in a skillet with garlic clove and red pepper slivers for 3 or 4 minutes on med/high, add agretti and stir until well coated for another 5 minutes.Salt and pepper to taste.
Roll out crust and form a decorative spiked border.  Prick center with fork.
Preheat the oven to 400˚ and bake the empty pizza crust for 20 minutes.
Arrange the agretti mixture, cubes of taleggio,  grated pecorino over the baked crust . Return to oven for 5 minutes then serve.
Pizza Crust
Mix the yeast and 1 tsp. sugar or molasses to ½ cup warm water
Add yeast mixture and olive oil to flour, blend well and knead for 8 to 10 minutes.
Cover with a damp kitchen towel and set in a warm place until double in size, (about 3 hours)
Add to Favourites