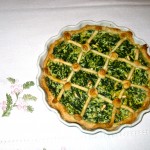 Spinach Ricotta Pie
Tidbits....This pie is always the first dish to disappear on my buffet table.   It is savory and light and almost looks "too good" to eat!
Instructions
Steam wet spinach leaves 2 or 3 minutes just until wilted.
Drain and chop.
Mix ricotta, yogurt and eggs until well blended.
Stir in spinach and Parmesan.   Stir in half of pine nuts nutmeg, salt and pepper.
Pour into prepared crust and sprinkle remaining pine nuts overtop
Decorate top with pie crust strips and rosettes
Bake at 375° for 35 minutes until golden.
Extra Flaky Pie Crust
Cut butter and salt into flour and mix with fork until crumbly.   Pour in egg, water and vinegar all at once.
Knead quickly on lightly floured surface and form a ball.  Wrap in Saran and let rest 1/2 hour.
Roll out in circle. With remaining dough, cut off enough for strips and rosettes.
Allergens
Add to Favourites