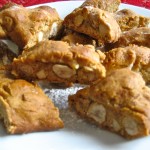 Prep Time: 30 minutes plus refrigerator time minutes
Cook Time: 30 minutes
Print
Susamelli (o susamieli)
Tidbits...    This recipe, a traditional recipe from Ciociaria (the area where we live) was handed down by our dear Zia Erminia.   These biscotti are popular for the holiday season yet are available all throughout the year.  They keep for weeks if stored in a cookie jar or tin. They are "dipping cookies" and according to tradition are dipped in a sweet white after dinner wine  (or a cappuccino or caffe' latte for breakfast).  The Neopolitan version shapes them in an "S" but from our area they are cut on the diagonal into 1" bars.  ( If you prefer a softer cookie add 1 large egg.)
Instructions
Whisk dry ingredients.  Stir in nuts.

Melt honey in double boiler or microwave until liquid.  Stir in wine and tangerine zest. (Can add slightly beaten egg - optional)

Add flour mixture to warm honey until well blended.  Refrigerate for 2 hours or more. 

Divide dough and on well floured surface roll into 6 or 8 logs.  Slice each log diagonally 1/2 way through before baking. 

Bake at 350˚ for 30 minutes.  Cut immediately into 1 inch bars.
Add to Favourites