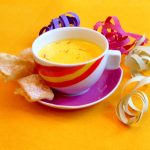 Zabaione with Orange
Tidbits...Carnevale is the holiday with everything sweet taking center stage.  Dipping Frappe or Castagnole in a tangy sweet Zabaione is the perfect star!  The secret to a creamy, dense zabaione is to beat eggs in a double boiler over simmering water (NOT boiling)  until the eggs reach the  desired consistency.
Instructions
Place egg yolks and sugar in bowl and whisk until soft and pale. Put in double boiler over low heat. Continue whisking with electric mixer and add orange juice with  Grand Marnier or Cointreau a little at a time until mixture doubles in size and reaches the consistency of custard.
Serve warm in individual cups and garnish with grated orange zest.
---
I
Add to Favourites