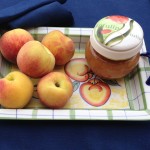 Prep Time: 30 minutes plus 24 hours minutes
Cook Time: 45 minutes
Print
Chunky White Peach Marmalade
Tidbits...These small white peaches are extremely sweet and do not need a large amount of sugar. The lemon adds just the zip needed and brings out a peachy but not flat taste.
Instructions
In a large pot boil water and blanch peaches for about 30 seconds. 

Remove with slotted spoon.

Peels should slide off easily. Halve peaches and remove pits.

Sprinkle sugar and juice of 1 lemon. Cover with saran and let macerate for 1 day.

Chop peach halves in small chunks add sure jell, remaining lemon and more sugar to taste if needed then bring to boil for about 15 minutes or until reduced to the right consistency.

Put hot mixture in sterilized jars, turn upside down for a couple hours to help seal.
Add to Favourites