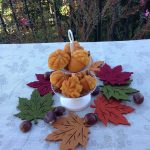 Prep Time: 20 minutes
Cook Time: 40 minutes
Print
Pumpkin Cake Bites
Tidbits...Autumn is my favorite season.  The spectacle of nature, especially in my Michigan home state is a "gift" to the senses.
This harvest fantasy is a "not too sweet" pumpkin cake. I found a cast aluminum bakeware mold by Nordic Wear for the cake bites.   You can easily use this recipe for mini muffins plumcake, or sheet cake.
Instructions
Mix oil, eggs and pumpkin until smooth.  Whisk dry ingredients then add to mixture. Stir in chopped nuts.

Bake in oil sprayed/floured plum cake pan at 350˚ for 50 or 60 minutes. 

Cake bites or mini muffins cook in 15 -20 minutes until inserted toothpick comes out clean.
Allergens
Add to Favourites