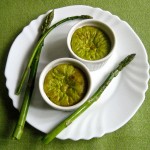 Asparagus Flan
Tidbits... My addiction these days is picking wild asparagus from the hills near my home. My daily walk which should take an hour sometimes turns into 2 or 3  hours if I start finding asparagus. I just can't resist looking for just one more. The stalks are very slender (like small knitting needles) . I have preserved them in several different ways. The easiest is to break them into 2 inch pieces, flash boil in slightly salted water (which keeps them green) drain, let dry on paper towels for a few hours then bag and freeze them. This season I also preserved the asparagus in small jars covered with extra virgin olive oil with a chopped hot pepper or sun dried tomatoes. This can also be done with regular asparagus as well.
Instructions
Cut tips of asparagus and cut stems in short pieces. Cook stems in milk on low just until tender.
Let cool and puree. Add beaten eggs, cream and salt and pepper to taste
Pour into buttered individual baking cups and bake for 20 - 25 minutes at 400˚
Saute tips in remaining butter just until tender. Serve over each flan.
Add to Favourites